Department of Computer Science and Engineering
About the Department
       The department started in the year 2008 with an initial intake of 60 students in UG Program in CSE and the intake is enhanced to 90 in the year of 2017 and up to now. In 2012, the department started a PG Program in "Computer Science and Engineering" with an intake of 18 students and present intake is enhanced to 30 students
     The department has well qualified, experienced & dynamic faculty along with experienced & skilled technical supporting staff who spearhead the process of achieving the vision of the department.  
       The department is well equipped with the latest computer labs & infrastructure to meet the both UG as well as PG curriculums. Many of our students are also pursuing PG program in reputed national and international universities. Many of our students have published technical papers in various national & international technical symposiums. A good number of students are being placed through campus placements in major IT, ITES and core MNC companies every year
As a part of the curriculum, Industrial visits are arranged for students to upgrade their skill and knowledge. Our CSE students also actively participated in paper presentation contest organized at various Engineering Colleges and Universities. Some of them have been awarded in these Paper presentation contests. The department has organized many national level workshops on recent advanced technologies in Computer science and engineering, and has also conducted national level technical symposiums and various social activities.
Department of Computer Science and Engineering Courses:
The following courses are being offered at the campus:
| | | | |
| --- | --- | --- | --- |
| S.No | Programs | Duration | Intake |
| 1 | B.Tech (CSE) | 4 Years | 90 |
| 2 | M.Tech (CSE) | 2 Years | 30 |
About HOD:
| | |
| --- | --- |
| Name | CH.VENKATESWARA RAO |
| Qualification | M.Tech(PhD) |
| Specialization | CSE |
| E-mail ID | chvraograce@gmail.com |
| Mobile | +91-9494379370 |
| | |
| --- | --- |
| Experience | 12 Years of Teaching Experience |
| No. of Publications | 10 National and 6 International Publications |
| Conference/Seminars | 3 Conferences |
| Extra Curricular activities | Involving various activities in all administrative works of the college and disciplinary activities. |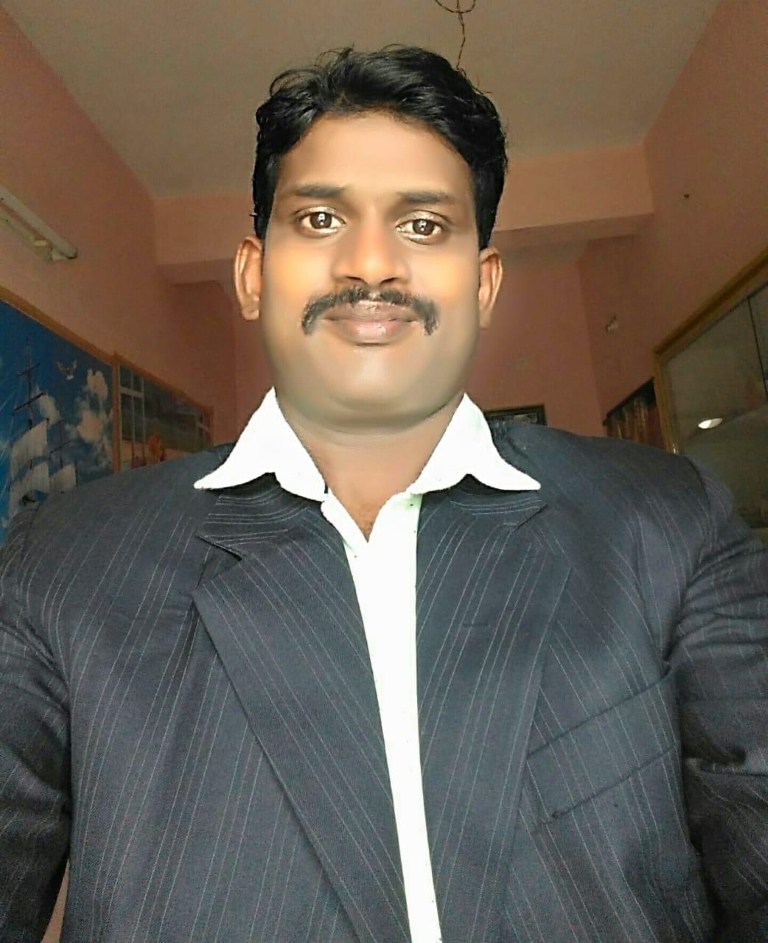 Message from HOD:
I congratulate all the students, who opted the Computer Science and Engineering branch. It is a pleasure to head the department of CSE. The department offers B-Tech (CSE) and M-Tech (CSE). The aim of the department is to provide high quality education along with training the students with all the new advancements in the computers field. The department places emphasis on all the important aspects of computers such as High speed networks, mobile networks , Algorithm Design, Operational research, Advance database systems, Theory of computation , Computer Graphics and many more.
The department also takes initiative to improve the soft skills, analytical capabilities and verbal communication of the students so that they can face the competition in the corporate world confidently. The scope of computer science is endless. The students of the computer science and engineering are highly demanded by the recruiters of the top companies. The department provides platform for the students to achieve their career goals.
MISSION:
Teach an appropriate curriculum in a manner that prepares our students to be life-long learners and to be successful in industrial and academic settings.
To educate students at under graduate and postgraduate in the fundamental and advanced concepts of computing discipline.
To foster practical engineering skills in our students with an emphasis on ethics, interpersonal development and professional competency. To prepare them to pursue exemplary careers in industries, academia and research. To impart the ability to use the expertise in computing to meet the ever growing demands of the society.
VISION:
The Department of Computer Science is committed to becoming internationally recognized for research at the intersections of knowledge domains within computer science and between computer science and other disciplines, especially where such research can empower the human potential in service to science and society. We will reinforce, extend, and diversify our strengths in interdisciplinary innovation and collaboration while striving to become recognized for addressing critical, scientifically important problems. We are committed to creating a graduate research environment and culture that fosters excellence and diversity, and inspires a generation of computer scientist's externally visible to the college, university, international computing communities and to serve the computing industry and contribute to our nation's socio-economic progress.
Faculty:
S.NO

NAME OF THE FACULTY

DESIGNATION

QUALIFICATION

EXP

MAIL ID

1.

Dr.T.RAGHAVENDRA VISHNU

PRINCIPAL,

Professor

M.TechPh.D.,

 
tadivakavishnu2019@gmail.com

2

CH.VENKATESWARA RAO

HOD, Vice Principal

M.Tech(Ph.D)

 

chvraograce@gmail.com

3

S.AKHILESH

Assistant Professor

M.Tech

7+

s.akhilesh2222@gmail.com

4

T.SOWJANYA

Assistant Professor

M.Tech

2+

Sowjicse2014@gmail.com

5

P.VENKAT

Assistant Professor

M.Tech

3+

rahimnihaz@gmail.com

6

A.Lakshmi Rajeswari

Assistant Professor

MCA

2+

Anumolulavanya9@gmail.com

7

P.V.N.S. Harshitha

Assistant Professor

B.Tech

1+

harshithapottilu@gmail.com

8

V.KOTESWARAMMA

Assistant Professor

M.TECH

2+

Koticse2014@gmail.com

9.

N.Nagamani

Assistant Professor

M.Tech

2+

nagamanipushpa74@gmail.cpom

10

D.Lakshmi Divya Sree

Assistant Professor

M.Tech

2+

lakshmidivyasri@gmail.com

11

G.Siva Naga Malliswari

Assistant Professor

M.Tech

2+

Sivanagamalliswari7@gmail.com

12

T.Suma

Assistant Professor

M.Tech

4+

tullimillisuma@gmail.com

13

M.Ravikanth

Assistant Professor

M.Tech

6+

Ravim9995@gmail.com
Journals:
S.No

Name of the Faculty

Name of the Publication

Title

Date

1

Y. RAJESH BABU

IJCERT,VOL-2,ISSUE-12

ISSN (O): 2349-7084

Enhanced Dynamic Secure group Sharing Using OTP in Public Cloud

DEC-2015

2

A.HARSHA VARDHAN

Vol-2, Issue-12

JUNE 2014

ISSN 2348-6848

Dynamic data stream compression methods for application level semantic for sensor networks

JUNE-2014

3

A.HARSHA VARDHAN

Vol-2, Issue-12

DEC 2015

ISSN 2348-6848

Implementing CP- APE scheme for decentralized tolerant military networks

DEC 2015

3

A.HARSHA VARDHAN

Vol-2, Issue-12

DEC 2015

ISSN 2348-6848

A data mining for big data

DEC 2015
Workshops:
S.No

Name of the Faculty

Venue of Workshop

Topic

Date

Place

1

Y.RAJESH BABU

GATEWAY,

VIJAYAWADA

Android

AUG 2016

VIJAYAWADA

2

CH.PRASAD

GATEWAY,

VIJAYAWADA

Android

AUG 2016

VIJAYAWADA
S.No

Regd.No

Venue of Workshop

Topic

Date

Place

1

09KU1A0512,

09KU1A0524,

09KUA0509,

Vignan University,

Guntur

Two days workshop on PHP-Scripting, Drupal,An Alternative Paradigm of Computing

02-03-2013

Vadlamudi.

2

13KU1A0523,

14KU1A0511,

15KU1A0507,

KL University,

Vaddeswaram.

Two days workshop on MODEL-DRIVEN ENGINEERING &

SOFTWARE DEVELOPMENT

16 September 2016

Vaddeswaram

3

14KU1A0504,

14KU1A0521,

14KU1A0513,

13KU1A0514,

13KU1A0537,

15KU1A0516

15KU1A05312

ISTE LBRCE STUDENT CHAPTER,Vijayawada

A five days workshop on HADOOP-ECO SYSTEMS

30th August to 3rd September 2016

Vijayawada

7

14KU1A0512,

14KU1A0526,

14KU1A0524,

15KU1A0529,

15KU1A0531,

15KU1A0533,

Techboat, Mangalagiri

Five days workshop on"Hadoop&Bigdata" and web technologies

Sep 2016

Mangalagiri
Laboratories:
S.No.

Lab

I-B.Tech I-Semester

1

C programming lab

2

IT Work shop lab

I-B.Tech II-Semester

3

Python lab

4

DS lab

II-B.Tech I-Semester

3

Object Oriented programming through C++

4

Data structures lab

II-B.Tech II-Semester

5

Java lab

6

FOSS lab

7

Advanced Data structures lab

III-B.Tech I-Semester

8

Data Base management Systems lab

9

Compiler design lab

10

Operating system lab

11

Linux Lab

III-B.Tech II-Semester

12

Computer Networks lab

13

Software engineering lab

14

Web Technologies lab

IV-B.Tech I-Semester

15

UML & Design Pattern lab

16

Mobile application development lab

17

Software testing Methodologies lab

18

Hadoop & Big Data Lab